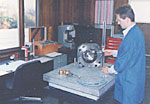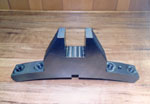 With our headquarters in Dalton, Mass. we serve the machining needs of large and small businesses throughout the Northeast and their satellite facilities at home and abroad.
Pierce Machine was founded more than 50 years ago and has been owned and managed by the Busch family since 1967. J. Robert Busch managed the firm's day-to-day operations for more than three decades before passing the baton to his son Mark in 1998, and continues to assist with strategic planning.
Mark W. Busch, president of Pierce Machine Co., joined the company in 1980. He was named president and treasurer of the corporation by the board of directors in 1998, succeeding his father. A resident of Pittsfield, Mass., he has served on the board of directors of Pittsfield's YMCA and Salvation Army, and is a past president of the Pittsfield Rotary Club. He also is a director of Legacy Banks and youth soccer coach. Busch is a graduate of the former Lenox School for Boys and of Nasson College. He is married to the former Anita Ryan Butler and has two grown children, Amanda and Jason.
Keith L. Harrison, vice president of Pierce Machine Co., joined the company in 1988 as an executive assistant. His current responsibilities include sales development, contract administration, purchasing, production overview and various administrative functions. He is a graduate of the General Electric Co. Toolmaker Apprentice Program. Before joining Pierce, he was the machine shop and plant superintendent at Lipton Steel and Metal Products in Pittsfield.
Dan Dobson is Pierce Machine's manufacturing operations manager. He has an extensive background in the papermaking and machining industries, and has been a large part of Pierce Machine for more than 30 years.
Our employees are a group of dedicated, highly skilled craftsmen with a variety of backgrounds and training. The average tenure at Pierce is over 15 years of service and many have 25 years and more. A company is only as good as the people that comprise it and Pierce prides itself on the world-class quality of its work force.
Mission 
Our corporate mission is to be the best quality machining services company in our area, providing machining services and machinery building services to a broad diversification of businesses at fair prices.
Pierce Machine is very serious about its mission, with a Quality Assurance Department that includes a temperature-regulated quality control room, gauge calibration & certification program, materials traceability system and computer-generated manufacturing process plans.